How It Works
1
Submit Trip Details
Online form takes only a minute to complete.
We'll call you to briefly discuss your trip.
2
Get Customized Plans
Compare plans & quotes from 3 travel agents.
Agents specialize in the destination you choose.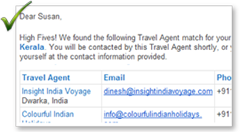 3
Have a Memorable Trip!
Choose the option you like & book your trip.
Have a safe, well-planned & memorable holiday!